Panel Mount Industrial LCD Monitors
Industrial Panels manufactures affordable NEMA rated industrial panel mount monitors in many standard sizes and in custom configurations as well.
QES1500 Series
The QES1500 Series of panel mount monitor is designed to comply with NEMA 4/4X Panel Mount rugged industrial environmental requirements. These rugged panel mount LCD monitors are designed for a variety of industrial applications requiring water-proof and dust-proof LCD monitors.

Industrial Panels Panel Mount monitors are also created for factory floor environments and can withstand:
Higher temperatures
Dirt
Vibration
Dust
NEMA and IP Ratings
High NEMA and IP ratings provide the utmost in protection from harsh environments. Industrial Panels offers panel mount monitors with options for adding:
Resistive
Capacitive
SAW panel mount touch screen
Harsh Environments
The Industrial Panels Panel Mount Monitor series is rugged, high performance and made specifically for harsh environments.
Features:
Industrial grade LCD panels with
Improved brightness
Improved contrast
Improved overall image quality
Superior Image Quality
This superior image provides clear, sharp images and ease of viewing even in harsh industrial installations. Our display controllers support analog, DVI-D, and S-Video input signals so that users can upgrade the display without making changes to the existing system.
On Screen Display
Panel Mount monitors also provide the user with On Screen Display to make adjustments and tuning easy. These displays are a great fit for factory automation, pharmaceutical operator interface, process control, Mining, Forklifts, Marine and other harsh computing environments.
Legacy Replacement
Lastly, our panel mount rugged panel mount display is well suited as a legacy replacement for older CRT based displays that are no longer supported by the original manufacturer. Our proprietary design offers compatibility with old video formats:
MDA
CGA
EGA
Analog signals below 30 kHz
We can support differential ECL or TTL applications as well.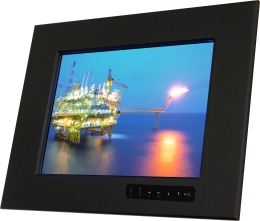 ---