Rack Mount Industrial LCD Monitors
At Industrial Panels, we're known for providing quality and reliable materials and displays. We continue to offer quality products with our durable and reliable rack mount LCD display monitors. Each display is assembled in a rugged rack mount chassis suitable for:
Industrial Process Control Rooms
Industrial Manufacturing
Financial
Transportation
Other Severe Environments
Compatibility
Multi-frequency plug & play capability enables this versatile Rack Mount Flat Panel Display to easily interface with a wide variety of video display systems. This robust color LCD monitor is easily compatible with older Rack Mount Legacy Monitors with the following features:
15.7 KHz through 110 KHz operation
High quality display
High resolution color images of VGA through SXGA for newer equipment installs
Standard Features
The QES1500 Rack Mount Legacy Monitors LCD Series are a rugged, high performance, Active Matrix COLOR TFT LCD monitors designed for all industrial process control applications with the following features:
Designed for use in 19" equipment racks
Contrast ratios exceeding 300:1
Brightness levels of 450cd/m2
Multi-language on-screen display
DDC1/2B Plug and Play
Wide viewing angle capability
The QES1500 series of rack mount monitors is a good choice for all of your industrial display needs. These standard features make this versatile LCD monitor a good choice for any control room or equipment rack.
Additional Rack Mount Display Options
Our standard Rack Mount LCD Displays may be customized to suit specific customer requirements. Some of the options offered are:
Resistive, SAW, and Capacitive touch screens
Anti-Reflective Protective windows
TTL Input option for EGA, CGA and MDA video formatted signal
RS170/343 analog video compatibility
Differential inputs
And many more!
CRT Replacement & Compatibility
Because our Rack Mount flat panel display can be programmed to operate at horizontal frequencies lower than VGA formatted signals, we are able to offer customers a display product to replace old CRT displays in existing industrial controls. As 20" CRTs have become obsolete, many of these older CRT display monitors are no longer supported by the original equipment manufacturer. Now Industrial Panels offers an affordable and fast display solution to customers having these older control systems.
If you're interested in purchasing or learning more about our Rugged Rack Mount Industrial LCD Monitors, contact Industrial Panels today!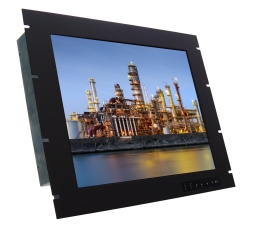 ---