Industrial Grade Computers
Industrial Panels is proud to offer the following product series of rugged color LCD flat screen Industrial Panel Mount computers.
Full-Featured Industrial Panel Mount Computers
Powered by powerful Intel® Celeron Pentium-III and IV processors, these rugged industrial panel PC's have all the man-machine interface features required for nearly any factory automation and process control application.
Rugged and Reliable Man-Machine Interface
Industrial Panels highly-integrated Human Machine Interface (HMI) products are optimized for superior performance in a multitude of demanding environments such as ATM, Kiosk, factory shop-floor control panels, and many others.
15" Panel Mount Fan-less Panel PC Design
Our advanced Industrial Man-Machine Interfaces are packaged in compact, yet rugged, galvanized steel chassis with water-resistant NEMA 4/12 bezels and VESA-standard mounting configurations.
These Industrial Panel mount Computers feature incorporate a multitude of interface options - such as optional 2.5" HDD', USB ports, serial and parallel port, compact flash slots, as well as keyboard and mouse connectors.
All these features are packaged in rugged space-saving NEMA panel pc chassis that fit in the most compact of kiosk, ATM or shop-floor control environments.
Touch Panel and LAN Support
Each rugged Industrial Panel PC and Man-Machine interface supports 10/100 Ethernet and sound and can be fitted with an optional touch screen that greatly enhances the advanced features of these Man-machine interfaces with built-in multimedia functionality, yet still meets the NEMA 4/12 environmental requirements.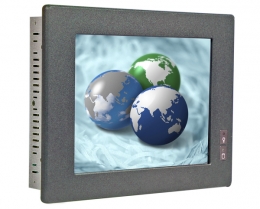 ---