Wall & VESA Mount LCD Monitors
The QES1500 Series of Wall/Arm Mount LCD TFT Displays are designed to be placed in a variety of industrial and process control environments requiring a stand alone wall mounted display where a complete seal from oil, dust and other contaminants is not required.
Frequency Ranges
These high bright monitors support horizontal frequencies ranging from 15.75KHz to 68KHz and are available with optional resistive or capacitive touch screens.
Rugged Wall Mount Designs for Harsh Industrial Environments
Our high bright monitors perform well in harsh industrial environments, where quality, reliability and stellar performance in wall mount LCD displays are key requirements. To offer the best in durability and usability we offer the following options:
Touch Screens
Enhanced Sunlight Readability
Front Touch Controls
Vandal Shields
Solid State LED Backlight
Strengthened Glass Protection
Legacy Compatibility
The QES1500 series an excellent choice for replacement displays in older legacy systems. They are also configured to accept a wide variety of legacy signal formats once used by Wall Mount Monitors that are no longer available on the market, allowing our Wall Mount Display Screens to serve as replacement industrial monitors for obsolete industrial control systems.
Compatible with:
CGA
EGA
MDA
VESA standards
Custom Designs
In addition to these standard options, we also offer custom designed products to best fit your specific Rugged Wall Mount Display Screen requirements. If you cannot find a standard configuration that will fit your exact application, Industrial Panels is willing to create a custom LCD Industrial Wall Mount Display that would fit your need.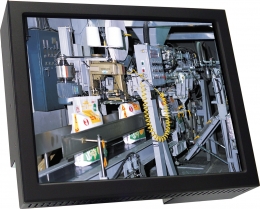 ---