Open Frame Industrial LCD Monitors
Versatile · Rugged · High Performance
The QES1500 Open Frame Series color LCD monitor are packaged in a rugged metal chassis suitable for installation in industrial process control consoles. These rugged, high performance, Active Matrix COLOR TFT LCD computer monitor kits are designed for rough industrial process control applications. Special mounting hardware for CRT replacement is also available.
High Quality LCD Video Display
Plug & play capability enables this versatile RGB LCD monitor to easily interface with a wide variety of video display systems. With contrast ratios exceeding 300:1 and brightness levels of 450 cd/m2 the QES1500 Open Frame Series color TFT LCD display is a good choice for most of your industrial display needs.
Multi-Language On-Screen Display
Standard features such as multi-language on-screen display, DDC1/2B Plug and Play, and wide viewing angle capability make this versatile LCD monitor a good choice for many industrial and medical imaging equipment.
Synchronization & Compatibility
The wide range of synchronization of 15KHz to 64KHz make this unit excellent fit for legacy products.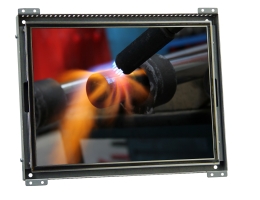 ---